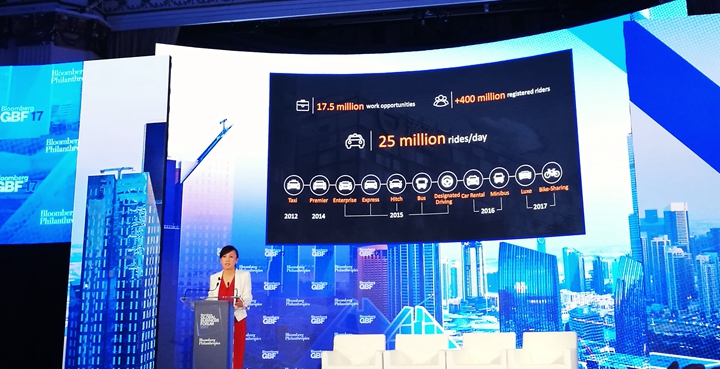 Jean Liu: Time to give cities back to the people
New York, 2017.09.21
Today, the President of Didi Chuxing Jean Liu delivered a keynote speech about the future of global cities at the first Bloomberg Global Business Forum. Jean envisioned an urban transformation that can optimize the use of time and space in a sustainable way, and she also called upon all stakeholders to step up and contribute in face of common challenges.
The Bloomberg Global Business Forum gathers significant world leaders and international CEOs to address and work to solve the most pressing economic and social issues facing the world today.
Below is a transcript of Jean's speech:
Good afternoon, everyone. It's great to join this event and to be back in New York.
Today's topic is about future cities. And every time, when I come to New York, I instantly feel the connection with this city: the vibes, the energy and the possibilities of this amazing city.
I think, for everyone, there's one city that touches our soul deeply. For me, that city is Beijing. Back then when I was little, horses were still part of the transportation and sometimes even mules. And I've even seen camels, once.
This is the Beijing now. You can see it's a completely different city. It's so modern. And, thanks to all the city planners and builders, now a lot of major global cities have been transformed to a whole new different level. And more people want to move into cities and our cities become bigger and taller and brighter.
But, at the same time, we feel the city has less time and space for people. I don't know about you, but a lot of times I find myself anxious. And I know a lot of people feel anxious when they are living in the big city. We feel stuck on jammed road, when there is no U.N. event.
And we feel anxious when we watch our kids playing in polluted air, and sometimes the anxiety is so strong we feel we lost connection with ourselves.
And since we are talking about future cities, in my mind, future cities should empower people rather than stressing us out. It should empower us, our children, our children's children and we should have more space for trees and water. And it should be built around people, not machines.
So how do we achieve that? How can a city support a growing population while, at the same time, remain friendly on time and space and sustainability? If everyone in this world wants to adopt a lifestyle of – urban lifestyle like here, I'm sure we would have a more severe climate issue like we just talked about.
So how do we achieve it? And I agree with all the speakers today. Every one of us, we just need to step up. We need to make our own contribution: East, West; public, private; academic, business; bigger companies, smaller companies.
While there are some scientists trying to send us to Mars, trying to build underground tunnels, there are young companies who are trying to make smaller steps, that's changing the city bit by bit. And we are one of those young companies.
DiDi is a company based in China, providing mobility service. And our mission is to provide a more affordable, comfortable and more efficient mobility service to everyone. I mean everyone.
Three years ago, there was this young, talented woman engineer who walked into my office to resign. I asked her why. She said she absolutely loved the job, but because she recently got pregnant she just cannot afford to spend three hours, every day, switching between buses and subways. The commute was killing her. Cases like that are our motivations. There are 800 million urban Chinese that travel 1.4 billion times every day. And you can imagine, there are a lot of cases like this. And, in our view, nobody should give up their dream because of a commute issue.
However, we do have another issue in China, which is car ownership. Car ownership just cannot grow higher. It's not like here, in the States. In China, we do not have enough space for more cars. That's why we are trying our best to provide a series of products.
DiDi does not only provide private car ride-sharing. In addition to that, we provide intelligent taxi system, intelligent mini bus system, carpooling, bike share. So we are trying all means to provide services to all urban Chinese. And we have strong conviction in that.
Twenty-five million rides take place on DiDi every day, which is twice as many as the other markets add up worldwide. And we see very encouraging results coming out of these efforts. There are 17 million drivers that earn income from DiDi's platform last year. Twenty cities are working with us to completely redesign their traffic signal and vehicle lanes.
And in the test zone, we've already seen congestion time reduced by 20 to 40 percent, after only three months of work. And also, the deep learning technology allows us to put more people into fewer cars, so 4 million passengers use our carpool products every day. And that, alone, takes away millions of tons of carbon emissions, every year, off the road.
And technology also saves lives. Globally, the road mortality rate is 1.6 deaths per 100 million miles. And while adopting the new safe drive technology on DiDi's platform, the number gets lowered to 0.6 per 100 million miles.
And, lastly, if the whole ride-share network is completely redefining the car industry, the next generation of cars will become greener. As a matter of fact, we are already running the largest electric vehicle fleet worldwide and the number is growing very, very strong.
But this is just the beginning. And we know how massive, how difficult this problem we are all facing together. That's why we remind ourselves, every day, we need to work harder and we need to collaborate with as many people as possible.
That's why we have invested in seven leading players around the globe in ride-share industry, from Southeast Asia to Middle East, from Europe to Latin America to the United States.
And we believe in sharing. We think sharing the best of practices, sharing the best product knowledge will make our industry grow faster, and that can benefit more people around the globe.
This is only on mobility. If we look beyond mobility, there's a very long list of complicated questions when we think about future cities. How do we think about overall efficiency with individual requests? How do we really fight poverty when there are more people coming to cities? How do we prepare ourselves for an autonomous era?
We don't have perfect answers, but I think that's the point of an event like this. So all of us sit together and think about what's the best solution. I am very hopeful.
I think if every one of us step up, contribute, one day we'll be able to convert more motorways and parking lots into parks and schools. And one day, we may find inner peace, even living in the busiest city in this world. And one day, we will give cities back to people. And I look forward to working towards that direction with you all.
Thank you very much.
Click the URL to watch Jean's speech.
https://www.bloomberg.com/news/videos/2017-09-20/didi-chuxing-s-jean-liu-on-the-future-of-cities-video